As the holidays approach, we'll begin to consume an increasing number of the wonderful, warm beverages that truly evoke the Thanksgiving and Christmas spirit. So stock up on cinnamon and nutmeg because the holidays are just around the corner!
However, as a cannabis enthusiast, you may be wondering whether there is anything you can do to improve your holiday joy just a little bit. Fortunately, Valley Pure has your back with some cannabis-infused beverages that will have you set for the next couple of months.
These beverage recipes all use either readymade cannabutter or cannabis infused milk, so if you're not sure how to make either of those, check out these easy to follow tutorials!
Cannabis-Infused Latte
This recipe contains one of the most popular combos, cannabis, and caffeine. While many people assume that combining cannabis and caffeine cancels out the effects of both, research suggests that caffeine might have the ability to enhance the effects of cannabis. So be sure to check out this delightful cup of joe to enjoy on a lazy morning when you don't have much to do, but be careful and drink in moderation if you're prone to paranoia.
INGREDIENTS
1 cup cannabis milk

¼ cup strong coffee or hot espresso

1 tbsp sugar

¼ tsp of cinnamon, ½ tsp vanilla extract, or flavor shots of choosing (optional)
INSTRUCTIONS
Using a frother, immersion blender, or whisk, froth the cannabis milk.

Fill a cup halfway with a hot espresso or strong coffee. Hold back the foam with a big spoon and continue pouring the infused milk into the coffee until it fills three-quarters of the mug. Remove the spoon to let the foam flow into the mug. This should result in a thick and creamy base with a frothy top.

Serve immediately.

Mexican Hot Cocoa
It's similar to the beverage we're all familiar with, but with a kick. The chili powder, cinnamon, and cayenne in the hot cocoa serve as a great contrast to the rich chocolate flavor. This festive cannabis-infused holiday beverage is also great at heating you up during the chilly evenings we're going to have over the coming few months.
INGREDIENTS
6 tbsp hot cocoa mix (dark chocolate)

11⁄2 tbsp chocolate syrup

2 tsp room temperature cannabutter

2 dashes of chili powder

1⁄2 cup whole milk, heated until warm

11⁄2 cups water, heated until warm

1⁄4 tsp ground cinnamon and/or 2 pinches cayenne pepper
INSTRUCTIONS
Whisk together the cocoa mix, chocolate syrup, cannabutter, and chili powder in a saucepan over medium-low heat until the butter has melted and the mix has dissolved.

Pour in the warm milk and whisk until fully blended.

Pour in the hot water and whisk to mix. Reduce the heat to low and heat the chocolate for 2 to 3 minutes, or until it is hot.

Divide the hot chocolate into two cups and top with 1⁄4 tsp cinnamon in each. Serve right away.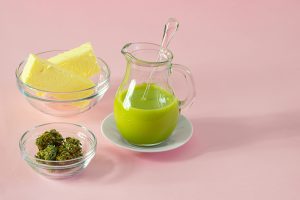 Cannabutter Rum Cider
Get your bottle of rum ready because this cannabis-infused holiday beverage recipe is delicious and perfect for the upcoming holidays! The apple, rum, and cinnamon spice truly bring out the winter flavors. The cannabutter rum cider is very simple to make and ideal for creating large amounts to share with friends and family.
INGREDIENTS
24 oz. of apple cider

4 tbsp softened cannabutter

¼ cup of heavy whipping cream

½ tsp powdered sugar

8 oz. of dark rum

¼ tsp. Cloves

4 cinnamon sticks
INSTRUCTIONS
Begin by heating the rum and cloves to a moderate boil in a small saucepan. Allow this to boil for around 10 minutes.

While you wait for this, whisk together your cannabutter, heavy cream, and powdered sugar in a bowl and put it aside.

Now, drain the rum-clove concoction into a clean, empty pot and add the cider. Heat this for just a few minutes on high.

Then, pour this fresh concoction into your favorite cups, and top each with two teaspoons of the cannabutter cream you made earlier.

Garnish with a cinnamon stick (optional.) Serve immediately.
VALLEY PURE LOCATIONS
FOLLOW VALLEY PURE ON INSTAGRAM AND FACEBOOK FOR DAILY UPDATES